Note: This is post #17 in our series on Tafseer of Juz 'Amma.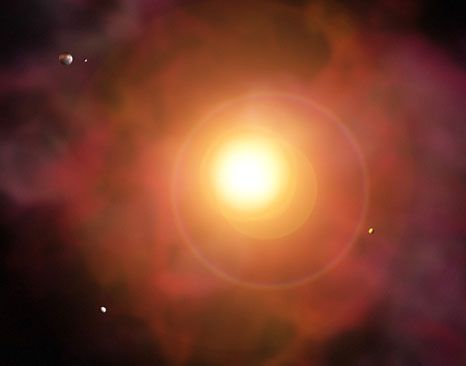 When the sun is kuwwirat …
We're going to digress a bit and jump back to Surah Takweer. This post is based on Shaykh Nouman Khan's tafseer, which heavily emphasizes the Arabic language. I hope you will find, as I found it, as a glimpse of a previously-unseen world, a depth of knowledge that just drips from the Arabic language.
Allah says, in surah Takweer:
إِذَا الشَّمْسُ كُوِّرَتْ
Translation: When the sun is kuwwirat … [verse 1]
There are a lot of gems that we learn even from this first ayah:
Idhaa + Past-Tense: Idhaa is an indicator of future-tense "when (something will happen)." Yet, kuwwirat is past-tense; why? This combination means something is so certain, it's like past-tense. So Allah is saying "when this happens," yet it's certain that it WILL happen; as certain as the past is past.
Nominal Sentence: The default in Arabic is to put the verb first–"kuwwirat ash-shamsu." To reverse this into "ash-shamsu kuwwirat," shows emphasis, and makes it a tougher, stronger sentence. This hints at the audience–Mushrikeen in Mecca, the worst and most obstinate of them, who are listening to this revelation.
Passive Voice: Allah could have said, "When I wrap up the sun," but He didn't. Why? If you're biased against someone (say a political party), no matter what they say, even before they open their mouth, you say, "psshh." But here, passive-voice highlights the maf'ool, the recipient of the action–the sun, the stars–instead of the doer.
As for the meaning of kuwwirat, kawwara means to wrap something around something; it's used in the context of a turban, something long, that's wrapped around your head.
Allah is applying the same meaning here–that the light of the sun, something that's long, will be kuwwirat, wrapped up. Wrapped up meaning, something will cover it, and it will no longer be visible; and it will be wrapped slowly, part by part disappearing–the same way that Allah described the day as wrapping around the night and the night wrapping around the day.
This is something scary–that you see the sun wrapped up, and losing its light. But there's more …